BGU II 385 (P. 6901)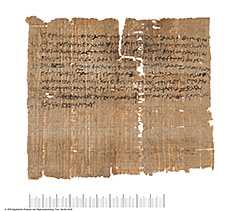 "I want you to know that I am alone." This sentence raises at least as many questions as the letter it came from. It was written by a certain Serenilla to her father Socrates.
The papyrus on which the letter was written was found in the Fayum, a large oasis southwest of Cairo in Egypt. It may have been written in a different place, which, however, was not mentioned. It is dated to the 2nd to 3rd centuries AD.
The letter begins with Serenilla greeting her father and wishing him all the best. In the next lines she writes him that she prays for him every day to the god Sarapis, so that her father is always well. It often happens in ancient private letters that people greet each other at the beginning or end with prayers. She sentimentally asks her father for a reply which he should give to the carrier of the letter. She fears that people might think she is an orphan if her father does not think about her and does not write to her. She ends the letter with greetings to her mother, her brothers and a Sempronius and his family who could be a relative or friend of the family.
It is very likely that Serellina wrote the letter herself, as can be seen from the differences in size of the letters and the frequent corrections. Towards the end, Serenilla seems to have been exhausted, as she had to retrace some letters several times.
On the back side of the papyrus, which was written from top to bottom with regard to the front side, the sender, recipient and carrier of the letter are mentioned. It was delivered by Sarapammon, who is indicated here as a brother, but this is not necessarily to be taken literally. It is possible that these three lines were written by him, since the handwriting does not correspond to the handwriting of Serenilla. Also of interest are the crossing lines on the same page. To ensure that no one else opened the letter, the lines ran over the string that held the rolled or folded letter in place. Therefore, when it was opened, it was no longer possible to close the letter in such a way that the lines were correctly reassembled. Thus, the recipient knew that someone had opened the letter before him.
As with most letters from antiquity, we do not know the mentioned people at all. Therefore, only assumptions about the situations in which they find themselves are admissible. It is possible that Serenilla did not leave her family in a positive way, because otherwise she would not have to fear that she would be forgotten by her father. We do not know whether Socrates answered the letter, but it would be interesting to know what happened afterwards. Maybe he called his " lost " daughter home again, so that she did not remain alone. We do not know. Why Serenilla wrote to her father exactly at this time is also not obvious. She did not ask for any material support in this letter, which either means that she was cared by her own work or she did not find it appropriate to ask her father for it. Whatever caused Serenilla to write to her father and whether she received the desired reply letter from him unfortunately remains unclear. Perhaps there is another letter from the Serenilla or from her father Socrates in the unexplored holdings of the Berlin papyrus collection.